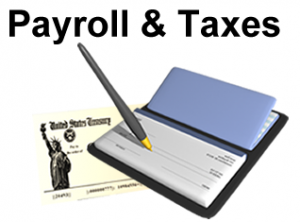 We will help you
with all of your
payroll and tax needs.
We specialize in
Small Business!

Payroll/Employee features
Automatic new hire reporting

We'll automatically report new hires to the government. Less paperwork means more time to make them feel welcome.
Employee self-onboarding
No more hunting for information. Employees can fill out their own personal details, saving you from manual data entry.
Email paystubs for employees
A beautiful paystub shows employees exactly where their money is going, any bonuses or reimbursements, vacation hours and more. They will have a better understanding of what their paycheck means.

Automated Tasks
Automatic tax filings

No more paper forms. Simplified Bookkeeping creates and electronically files your State & Federal payroll tax documents, including all end-of-year forms such as the W-2.
Automatic tax calculations & payments
SBKI automatically calculates your state and federal payroll taxes. We then electronically pay them to the government on your behalf.
Payroll on Automatic
Never worry about missing a deadline. With AutoPilot activated, our system will automatically process your company's payroll and let you know you're good to go. Your employees will be paid on time, every time.
Contractor payments & 1099 forms
Have the flexibility to work with contractors. There is no extra cost to generate 1099 forms at the end of the year. We will automatically generate and send them electronically to your contractors, plus file them with your tax documents.

Additional features
Mobile & web access 24/7

Employees can submit their information on your account at any time from any web-enabled device, including computers, tablets and smartphones.
Direct deposit & checks
Pay your employees and contractors via Direct Deposit or check.
Online form signing
Paper forms are a thing of the past. Electronically sign all necessary forms for payroll online.
Collaborate on payroll
Work with your accountant, bookkeeper, or other team members on your payroll.
Reimbursements
Pay your employee reimbursements at the same time you run payroll. Reimbursements can be included in their direct deposit.
Workers' comp
We help you set up a workers' compensation insurance plan that works best for you.